Quality management system
A quality management system is a collection of business processes and functions aimed at continuous improvement of quality in order to ensure that user expectations and requirements are met.
The established quality management system enables an organisation to ensure a monitoring system and continuous work on its improvement as well as to define and apply the state-of-the-art methods. It helps to identify gaps in the organisation, shortcomings in communication and the transfer of practical knowledge within the Bureau.
A good quality management system helps identify outdated procedures, offers ideas on how they could be of better quality, and provides valuable feedback that can be used to further increase results.
The quality management system is continually examined from the point of view of the Bureau's main and subprocesses, as follows:
Croatian Bureau of Statistics level
A balanced approach to all processes and subprocesses is continuously implemented at the level of the Bureau. Complete quality management as a five-pillar concept is the key for achieving quality business results.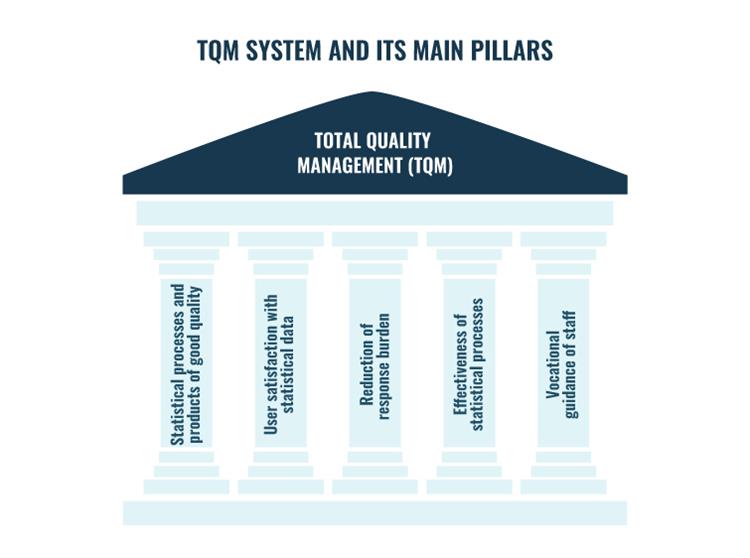 Main production process level
Consistent, cost-effective and well-established production processes together with logistics are developed and maintained as one main process, taking into account that their implementation is influenced by statistical methods, tools, data, metadata, software programs and statistical manuals.
Statistical process level
Statistical surveys are a set of subprocesses of the main statistical production process. By checking the statistical process according to the
GSBPM
, it is determined whether the subprocesses for a particular statistical survey function optimally. In order for the Bureau to be successful, it is not enough to only continuously improve individual statistical processes, but it is also necessary to continuously develop all processes designed at the level of the Bureau. Monitoring, analysing and improving each individual process provides grounds for a sound quality of the Bureau's entire performance.
Guidelines
The goal is to create an integrated activity (quality) management system in which the principles of good quality are embedded in statistical processes and products. The quality of statistical processes and products can be monitored by means of
quality reports
published in accordance with the structure of
the Publishing Programme
.
Important quality goals that affect the entire organisation are built into strategic goals, becoming part of the planning and monitoring of each individual activity.
Well-motivated and competent employees understand the strategic goals of the Bureau, which significantly improves their realisation. It can be said that the application of the Total Quality Management involves every individual within the organisational system with the aim of continuous monitoring and improving the quality of the entire business.
Source:
1.
European Statistics Code of Practice
2.
General Revision Policy of the Croatian Bureau of Statistics
3.
Quality Assurance Framework of the European Statistical System
4.
Implementation of the Total Quality Management in the Croatian Bureau of Statistics
5.
Quality Guidelines
6.
Quality Policy
7.
Confidentiality Policy
8.
Dissemination Policy
9.
Policy_for_information_security.pdf
10.
European Statistical System handbook for quality and metadata reports
11.
Handbook for Calculation of Quality Indicators